The Coronavirus pandemic has affected every single person in the UK in ways we could never have imagined. In both personal and professional capacities, many people's lives have been altered beyond recognition and the W12 Conference team is no exception.
W12 Conferences is part of the Imperial College Healthcare NHS Trust, which means that during this time we are a in a unique position to offer our services and spaces to help our fellow NHS colleagues.
As the conference centre has been closed for business in its usual capacity of hosting events, the rooms are being used to store supplies for local NHS workers. The Imperial Health Charity, has been distributing lots of donated food and drinks to healthcare workers. Easter eggs, energy drinks, snack bars and canned tea and coffee are some of the items recently distributed to frontline workers.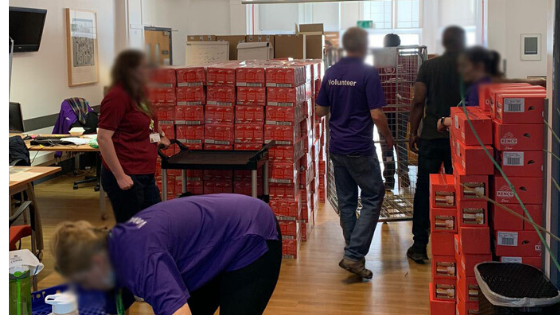 The Work Perk and Gems at Work have been tirelessly working with food and drink companies to get free snacks and drinks to our hard-working, healthcare teams in our local hospitals. HEINZ, Boost drinks, Galaxy, Twinings, Kenco, Weetabix, Cathedral City and Kind are a handful of the businesses that have kindly donated to this fabulous cause. If you're interested in following the comings and goings at W12 Conferences and how our spaces are being used to support other NHS workers, please follow @W12_Conferences on Twitter. You can also follow @imperialcharity to find out how their efforts are making a difference to frontline staff.
As far as the events team here at W12 Conferences, we've all been redeployed to help different departments in our local hospitals for the duration of the Coronavirus outbreak. Our new roles range from working in pharmaceuticals, helping out in the kitchens and cleaning to name but a few. We all feel very lucky to still be able to go to work and witness first-hand the remarkable efforts of our amazing NHS co-workers.
Hopefully life will begin to return to some sort of normality soon, and we're hoping to start opening bookings for our events and conference spaces later this year. If you'd like to get in touch to discuss your upcoming event plans or would like to find out more about what we and The Imperial HealthCharity are doing at the moment, please don't hesitate to contact us at info@w12conferences.co.uk